What You Need To Know About Nevada Online Gambling
There is a lot of confusion in the US as to if online gambling is illegal or not. In strictly technical terms, it is not illegal to bet online in the USA, but the federal government claims that the current law does apply to all online gambling sites in the US, and that companies will be prosecuted for allowing, offering or aiding and abetting online gambling.
The United States Court of Appeals for the Fifth Circuit has ruled that the current Federal Wire Act does not allow online betting/gambling, which leaves the door open for a lot of other forms of online and telephone gambling, but the federal Department of Justice states categorically that the Federal Wire Act covers and prohibits all forms of online gambling. This was further backed by the "Unlawful Internet Gambling Enforcement Act of 2006," which was enacted just two years after Google and Yahoo removed online gambling adverts from its index.
You will not have your winnings taken from you if you gamble online in Nevada
New Jersey was the first state to make online gambling semi-legal
Nevada is the first to bring out legalized online gambling rules that work!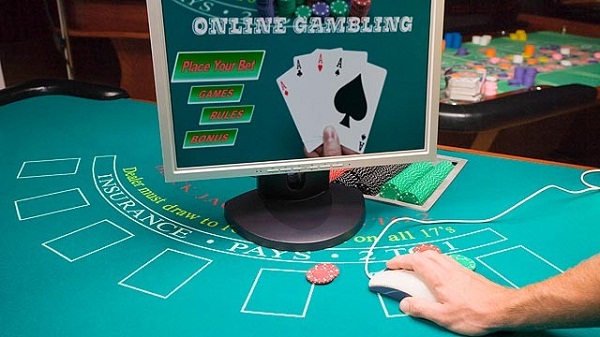 How do I deposit money so I may play online Poker for real money?
Many gambling sites in Nevada offer games of Poker for real money, and some offer sports betting for real money. In order to place a bet, you must first have credit in your gambling account with the website.
Currently you may use a direct deposit via VISA and Mastercard, which simply involves putting your card details into the system. You may also set up a bank transfer if you use online banking and are able to make payments. For a bank transfer you must enter the details given to you, and transfer money in using the same methods you would use to pay a friend or family member.
You may use NetTeller if you have an account, though you will need to have your bank card linked to the NetTeller account. If you are using a website hosted by a casino in Las Vegas, then you can walk into the casino and hand over money to be deposited into your gambling account.
In European countries such as Britain, you are allowed to use companies such as Skrill or PayPal. There are very few Nevada online gambling websites that use these  payment companies at the moment. People in the UK use soccer tipping websites such as http://soccerkeep.com/ to make their bets. When they win, they are paid via Skrill or PayPal. Some UK gambling websites will accept payment from direct debit bank accounts, but banks are in the habit of freezing accounts when they see they have activity from gambling websites, so most people prefer PayPal or Skrill.
Is online gambling is completely banned in the US?
Since the laws were enacted, there have been quite a few companies and individuals that have had their money taken from them by the federal government because they were gambling online or providing gambling services.
In 2009, the UIGEA created rules for licensed online gambling, which were cautiously accepted. In 2010, New Jersey passed the first bill that allowed certain types of online gambling; still in 2011, there were three companies that were prosecuted for offering online gambling to US citizens.
Now, in a new move, it seems that sports betting and games of chance websites are still widely illegal in the US, but in Nevada, there has been a shift in the wind. It is currently the first state to roll out regulations that allows licensed online poker operators and sport betting operator. Learning from the blunders in New Jersey, Nevada officials have set up licenses to allow online gambling for real money.
The question of games of skill online in the USA
Nevada companies were mostly protected if they used authorized payment methods and only offered games of chance. Court rulings have shown that Poker is a game of skill. Nevada officials have shown that skill is only needed when playing real people, in real-time, in person, as one is assumed to read and "play" the other members. Online this cannot be done, and solid arguments have been made claiming Poker is a game of chance when played online.
Though only a small number of companies currently offer legal online gambling in Nevada, many of the large casinos have already issued press releases claiming they are setting up their own online gambling websites.
What is definitely legal to play online in Nevada?
According to Nevada law, the only form of online gambling you can be 100% sure about is online sports betting. It is still a misdemeanor to "place, send, transmit or relay through a medium of communication a wager to another person or an establishment that is located within or outside of this state." However, Nevada laws do not recognize betting on online sports betting as fitting within this misdemeanor description, especially since it is a game of chance, which gives Nevada a lot of wiggle room because of the Federal Wire Act and the UIGEA rules.
Can I play online Poker in Nevada from Delaware?
Oddly enough you can. In February, 2014, a deal was struck between Delaware and Nevada that allows people from Delaware to sign up for accounts in Nevada over the Internet and bet for real money. This means that a person from Delaware may gamble on a website based in Nevada, but cannot gamble legally on one based in Delaware.
Though do not get too excited about other states joining Delaware, as a ban on interstate gambling was proposed by Sen. Lindsey Graham, R-S.C., and Rep. Jason Chaffetz, R-Utah in August 2014.
Sources
http://pub.bna.com/eclr/1321a.htm
http://caselaw.findlaw.com/us-5th-circuit/1342249.html
http://gaming.nv.gov/index.aspx?page=51
http://gaming.nv.gov/modules/showdocument.aspx?documentid=2942
http://www.legaluspokersites.com/state-laws/nevada/#A
http://soccerkeep.com/
http://www.foxnews.com/politics/2014/02/25/raising-stakes-nevada-and-delaware-sign-agreement-to-allow-interstate-online/